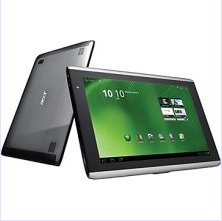 Recently  Tablets, Yes; E-Texts, Maybe caught my attention. Why are e-textbooks in the maybe category?
The article highlighted a study by a major textbook publisher.   By the title you can see the gist of the post:  tablets are on the rise but students are not sure about digital textbooks.  Students responding to the survey may be wondering about e-texts but textbook publishers pursue this hesitation at their peril.
Part of the confusion may arise with the definition of e-textbooks.  Many folks think of the e-books sold on Amazon or titles for the Nook e-reader from Barnes & Noble.    In other words, traditional books — text dominant — converted to PDF or another virtual publishing format come to mind.  If current students do not express a preference for digital textbooks, publishers may delay even further their preparations for the inevitable demand for e-texts.  These limited views of e-text as just another e-book and not a high priority for learning, miss the mark on several fronts.
1.  The digital book market is exploding;  in fact, e-book sales increased almost 160% in the first quarter of 2011.  In May 2011, Amazon reported that sales of e-books surpassed paper bound volumes. With the explosion of e-books as a preference as well as the increasing reader choices, student preferences for e-texts are not far behind.   Textbook publishers must develop e-texts or alternate publishing sources will overtake these huge academic, professional development and training markets.
2.  Learning itself is an interactive event.  Whether the student is in self-reflection, discussing the question of the day with peers or responding to an instructor, learning is interactive.  Textbooks should be interactive not just static pixels or images.  Such interactive texts take learning to new levels.  Design of these texts, however, will significantly differ from current authoring practices.  Writers and publishers must prepare.
3.   Whether it is today's college students or forthcoming generations,  they are digital natives and they thrive in their natural state.  These young people were born into the Internet world which has expanded exponentially into a screen-filled, mobile, on demand environment.  Marc Prensky in his 2001 paper about digital natives contrasts them with digital immigrants.  The latter came of age in a pre-digital world.    Whether digital native or digital immigrant, these individuals populate not only colleges and universities but the work place.  In the work force, they require continuing education.  They are current and future members of professional associations.  They live digitally.  They will seek interactive events and experiences throughout their lives.  To meet these demands, publishers and others who provide educational materials must  deliver high quality, interactive textbooks, resources and experiences.
Benefits of E-Texts
The beauty of digital textbooks is that they can take interactivity to new levels.  A truly interactive textbook builds on the traditional knowledge and research extending the experience through hyperlinks, embedded video, and other rich-media technologies.  Teacher editions include guides for communities of practice — perhaps even a CoP established by the publisher in cooperation with subject matter experts across the field.
There are myriad ways that digital can bring textbooks "alive."  To do so,  textbook authors and publishers must embrace the vibrant interactive nature of the digital world.  So tablets, yes; e-texts, maybe; interactive, definitely!