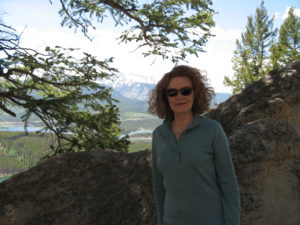 Welcome to my new blog:  Peak 8 Learning!
For many years, hiking and walking have been two of my favorite pastimes.  My husband and I have hiked the Canadian Rockies (Banff National Park), Glacier National Park in northern Montana, the Colorado Rockies and walked hundreds of miles in the hills of northwest Austin, Texas.  Delight in the outdoors,  renewal through nature, terrific exercise not to mention glorious beauty are a few of the reasons I love to hike.
Several years ago, we hiked to the top of Peak 8 in Breckenridge, Colorado.    It was summer and Breckenridge, the town, sits at 9600 feet — Peak 8 tops out at 13,000 (actually 12,998) feet, beckoned again.   We took a chair lift to Vista Haus (11,059 feet) then began our ascent up the ridge.  There was some vegetation  but eventually we were above the tree line in total rock and shale.  The angles allowed us to hike and climb carefully.  I have to admit I was scared especially the final hundred yards — it seemed like it was straight up.  Oh, but the panorama at the peak was amazing — viewing the world from atop the Continental Divide, majestic peaks and valleys all around, sky seemingly so close it felt like you could touch it, a few clouds — even as I type, I am filled with awe and wonder.
I believe the Peak 8 experience captures the essence of learning:  challenges, pushing one's envelope, overcoming fear, tapping inspiration, entering new territory, experiencing  peaks and valleys.  Then just like a hiker, the learner returns home — transformed and seeking the next trail.
Visit often and share the journey to Peak 8 Learning!